Chainxspace: Geopolitics is the current driver of Bitcoin's growth
Bitcoin quotes updated February highs and came out of the sideways, aiming for the $50,000 level. The bulls used the low liquidity of trading over the weekend, which did not allow the bears to gain enough positions to hold a strong resistance zone at $42,000-$44,000, which completes local BTC growth attempts three times, according to the Chainxspace analytical team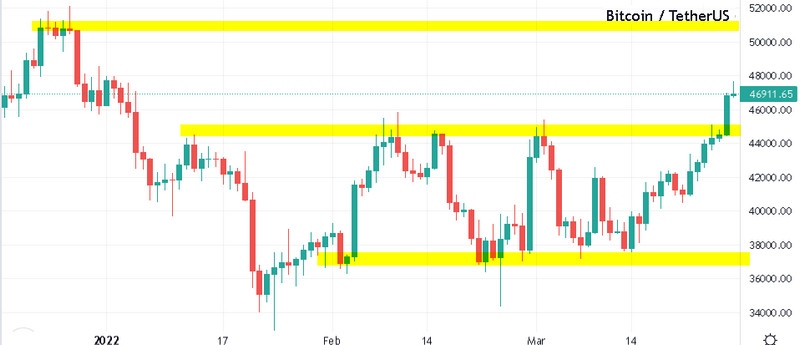 The growth of Bitcoin over the weekend is associated with the statements of the Turkish Foreign Minister about the possible achievement of a ceasefire agreement at the talks between Russia and Ukraine, which will be held in this country tomorrow and the day after tomorrow.
Apparently, investors see these events as a starting point for achieving peace, judging by the significant increase in spot positions. Since May 2021, futures trading volumes in the Bitcoin market have exceeded transactions with real cryptocurrency by 75%.
Chainxspace analysts drew attention to a sharp increase in purchases of spot BTC in the second half of March. They coincided with the beginning of the current trend, which led to the exit of Bitcoin from the medium-term sideways.